18 May 2021
The Convention Centre Dublin has been awarded a Gold Healthy Venue accreditation
The Convention Centre Dublin (The CCD) announced that it has been upgraded to a Gold status, becoming only the third venue in the world to achieve the highest-level accreditation by the World Obesity Federation's Healthy Venues Award programme.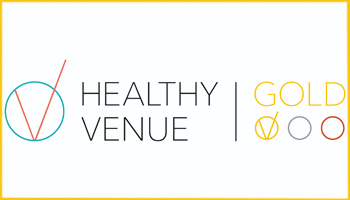 The CCD was previously awarded a Silver status in 2017 but after completing the required evaluation criteria, the venue has now been upgraded to the highest-level award by the World Obesity Federation's Healthy Venues Award programme.
The Healthy Venues Award encourages venues to support their delegates and staff in making healthier choices during conferences. It is broken down into three components, workplace health, healthy catering and promoting activity.
Speaking about the prestigious accreditation, Stephen Meehan, CEO of The CCD said, "We are proud to be awarded the top level Gold Healthy Venue accreditation. We look forward to offering the highest standard of healthy and active choices to delegates, clients and employees once it is safe for face-to-face events to return. We now have more resources and options in place to support everyone that passes through our doors to make healthier choices and improve their wellness."
For this accreditation, The CCD focused on a range of strict criteria that promote healthy eating, physical activity, healthy events and overall workplace health. The team will continue to monitor progress and feed information back to the World Obesity Federation's Healthy Venues Award programme with a view to continually improving healthy events.
The CCD is one of three venues in the world to be listed as a Gold Healthy Venue. The two other listed Gold Healthy Venues are The Forum Company, South Africa and MiCo - Milano Convention Centre.
- ENDS -
Press Contact
Suzanne McGann
Head of Marketing & Communications
The Convention Centre Dublin
Email: suzanne.mcgann@theccd.ie
About The CCD
The Convention Centre Dublin was developed to provide a world-class conference venue in the heart of Ireland's capital city. Located just 15 minutes from the airport in Dublin's Docklands, the finance and technology hub of the city, The CCD is ideally positioned to entice the international business tourism market.
Since The CCD opened in September 2010, the venue has hosted over 1,900 events. As business tourists spend money on hotels, taxis, dining out, entertainment, shopping, cultural experiences and tourist attractions, events held at The CCD help to generate significant revenue for the Irish economy.
Awards
The CCD has won 50 industry awards to date including:
World's Leading Meetings & Conference Centre 2019, 2017 – World Travel AwardsTM
Europe's Leading Meetings & Conference Centre 2020, 2019, 2018, 2017 - World Travel AwardsTM
Best Overseas Conference Centre - UK Meetings & Incentive Travel (M&IT) Awards Gold 2012, 2013, 2014, 2015, 2016, 2018, 2019, 2020 Silver 2011, 2017
Best Venue - 2020, Best Overseas Conference Venue - UK Conference & Incentive Travel (C&IT) Awards 2013 and 2015
About The World Obesity Federation
The World Obesity Federation is a not-for-profit organisation representing professional members of the scientific, medical and research communities in over 50 regional and national obesity associations. The Healthy Venues Award programme was launched in October 2015 with venues awarded Bronze, Silver or Gold status according to their adherence to a list of criteria relating to healthy eating and physical activity. The criteria for a Gold Healthy Venue can be found here. For more information, visit www.worldobesity.org