The Convention Centre Dublin's ESPA Gold award underground car park, managed by Euro Car Parks, has 320 spaces, 14 disabled spaces, six electric vehicle charging points and a height limit of 2.1m. It operates from 7.00am to midnight, 7 days a week. Parking rates are €4 per hour or €30 per day, with an evening rate of €16 from 6.00pm to midnight and an overnight rate of €18 from 6.00pm to 9.00am. Both cash and credit card payments are accepted. Please note a 10% service fee applies to each transaction. As this is a public car park and not operated by The CCD, we do not have the ability to provide any alerts when the car park is full.
For more information on The CCD's ESPA Gold award underground car park, please call Euro Car Parks on +353 1 8761763 or email ccd@eurocarparks.ie.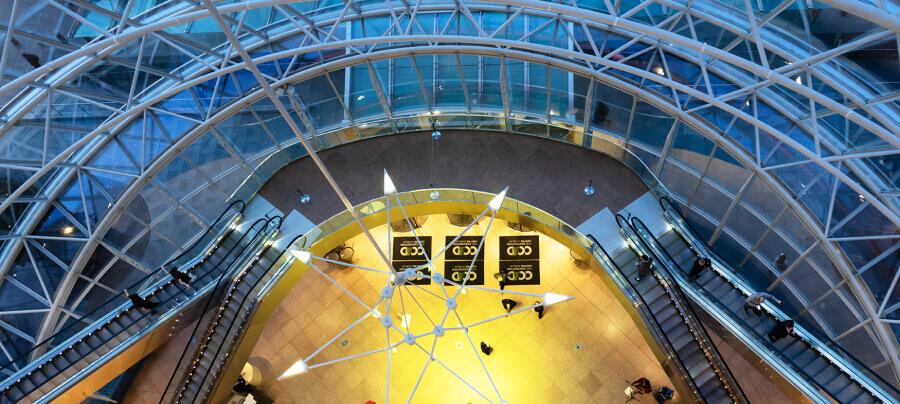 Accessing the underground car park
Coming from the city centre, you can approach our car park via Mayor Street Upper or North Wall Quay. If approaching via Mayor Street Upper, drive past the back of The CCD and, to your right, you will see a ramp leading down to the car park entrance. If you are approaching The CCD from North Wall Quay, the easiest way in is to turn onto Park Lane (first turn left after The CCD coming from the city centre, last turn right before The CCD coming from Dublin Docklands). Take the first left off Park Lane and turn left down the ramp to the car park.
When you go down the ramp, turn right for The CCD car park. Please note that when you park, you must use the designated lift to exit the car park and ascend to Ground Level. For security reasons, all users of the car park must exit the building at ground level on the east side of The CCD, and do not have direct access into The CCD foyer. If you are attending an event at The CCD, simply walk around to the main entrance. You can find information on access for delivery vehicles here.
Download our map of routes in and out of The CCD Underground Car Park.
Car Parking near The CCD
There are over 2,300 spaces in car parks near The CCD. In addition to the car parks listed below, just across the Samuel Beckett Bridge you will find on-street pay and display parking on Stoney Road, Forbes Street and Hibernian Road that operates from 7.00am to 7.00pm Monday to Saturday at a cost* of €3.00 – €3.50 per hour depending on parking zone. This will be displayed on signs on each road.
Car Park
Walking Time to The CCD
Spaces
Disabled Spaces
Opening Hours
Operator
Cost €*
The CCD
Spencer Dock
1 minute
320
14
7am – midnight, Monday to Sunday.
Euro Car Parks
From €4.00 p/h and €30 p/day, €16 evening rate, overnight rate €18 

National College of Ireland (NCI) Lower Mayor Street
5 minutes
104
0
7am – 11pm, Monday to Sunday.
NCI
From €3 p/h and €10 p/day
Point Village Parking Entrance from Sheriff St Upper
10 minutes
880
26
7am – midnight, Monday to Saturday. 9am – midnight on Sunday.
Point Square Dublin
From €4.20 p/h
IFSC Car Park Lower Mayor Street
10 minutes
370
2
6.30am – 10pm, Monday to Friday. 8am – 10pm on Saturday. 10am – 10pm on Sunday.
Park Rite
From €4.20 p/h
Pre-book online
Grand Canal Square Car Park Grand Canal Square
10 minutes
150
8
7am – midnight, Monday to Sunday
Q Park
From €5.00 p/h
Pre-book online
Irish Life Car Park Abbey Street
15 minutes
340
4
7am – midnight, Monday to Friday. 8am – midnight on Saturday. 10am – 7pm on Sunday.
Park Rite
From €3.60 p/h
Pre-book online
Connolly Station Car Park Lower Sheriff Street
15 minutes
460
Yes
24 hours / 7 days
Irish Rail
From €9.50 p/day
*Car park rates are subject to change, so we advise you to check with the car park operator for the latest information.