Honouring Kevin Roche, the Award-Winning Architect behind The CCD. 
Award-winning architect, Kevin Roche, passed away at his home in Connecticut, USA on 01 March 2019.
DUBLIN – 18 April 2019 – As one of Ireland's most acclaimed international architects, he won innumerable awards for his designs of over 200 major buildings around the world. In 1982 he was awarded the prestigious Pritzker prize, which is the equivalent of the Nobel prize for architecture.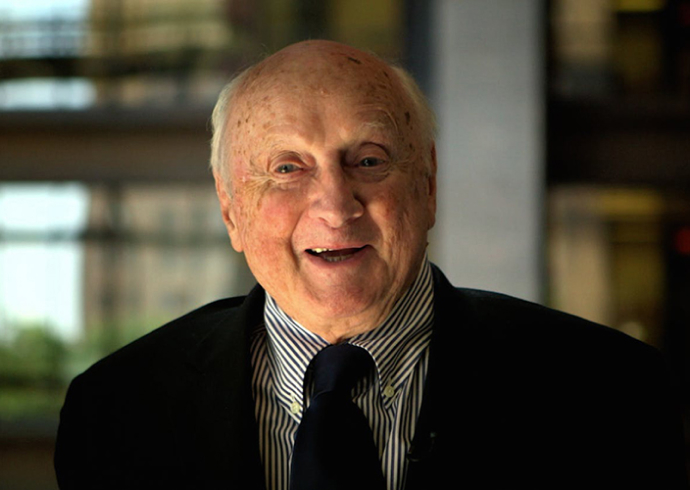 Born in Dublin, in 1922, Roche grew up on a farm in Mitchelstown Co. Cork. He completed his architectural education in University College Dublin (UCD) and graduated in 1945, before going on to work in London and the US, where he was responsible for the design of more than 200 buildings, including art galleries, office blocks and zoos.
Some of Roche's better-known work includes the New York Metropolitan Museum of Art, the Oakland Museum, the UN Plaza and the Ford Foundation headquarters in New York, with his only Irish design being The Convention Centre Dublin (The CCD). The CCD stands on the River Liffey in Dublin's Docklands and has quickly become a landmark building on Dublin's skyline since it opened in 2010. Its stunning glass-fronted atrium gives visitors panoramic views of the River Liffey, Dublin city centre and the Wicklow mountains.
Speaking shortly after Roche's passing, Dermod Dwyer, Executive Chairman of The CCD and friend of Mr. Roche, commented, "The CCD is the only major Irish building Kevin has designed, and its striking presence on the riverside cityscape has turned it into a symbol of modern Ireland at home and abroad. As master architect with his attention to detail, he designed every facet of this building right down to the door handles. The CCD design turned it instantly into an iconic building on the banks of the Liffey. It stands as a fitting legacy for this extraordinary Irishman."