Seven things to do in Dublin.
Many will agree that one of the best parts about travelling to an event is the opportunity to explore the new city where your conference, meeting or special occasion is being held.
Just another great reason why Dublin is the perfect meeting and conference destination, is that Dublin, and Ireland in general, has an abundance of culture and beauty on offer. Whether you're a delegate with only 30 minutes available between meetings wanting to walk around the city and take in the sites or you have a full day available to deep dive into the rich culture and history of the Emerald Isle, there's always something new and different to suit all areas of curiosity.
Dublin is the perfect combination of a world class, vibrant city and the character of a small home town that is walkable.  We've were recently voted 4th best city in the world for culture and we have much to show for it! Here are seven things delegates can do during or after a conference at The Convention Centre Dublin (The CCD) to make the most of their time in Dublin: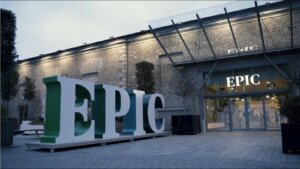 1. EPIC The Irish Emigration Museum. It's no secret that Irish people have spread far and wide around the world. Take a few hours to walk through history and learn about the stories of Irish immigrants who spread around the world during times of struggle. The emigration museum is a five minute walk from The CCD and is the perfect breakaway from a busy conference day.
2. If you only have 30 minutes to an hour available during a lunch break, get some fresh air  and treat yourself to a stroll around the scenic Dublin docklands. Or if you're the running type, here are a few mapped out 3km, 5km and 10 km running routes starting and ending at The CCD, exploring the surrounding canals.
3. Rent a Dublin Bike. This is an easy and affordable way of getting around the city. These rent-a-bikes have parking, pick-up and drop off stations in convenient locations throughout the city centre, allowing you to explore the city without the hassle of worrying about transport.
4. For those of you with a few hours or an afternoon to spare, hop on the DART for a hiking adventure around Howth village. Howth village is a quaint harbour town with scenic views of the Irish coastline on the Howth Cliff Walk. The train there takes about 25 minutes from Connolly Station and you have various hiking options available to you, as well as plenty of restaurants to grab fish and chips or even a swim at Balscadden beach!
5. Jeanie Johnston Famine Ship tour. This tour takes 50 minutes and will take you on a journey of the 2,500 people who boarded this ship to flee Ireland during the famine. Get insight into life on board and hear the stories of people who made the arduous voyage. The Jeanie Johnston ship is within a five minute walk of The CCD.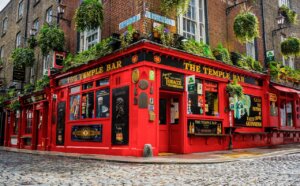 6.  Bike Bike, bus, hop on a bike or take a walk into Temple bar. This historic area is full of traditional Irish bars with plenty of local traditional music, up-and-coming street performances and an endless supply of Guinness. The cobbled roads and plethora of pubs is an iconic scene that is worth the visit.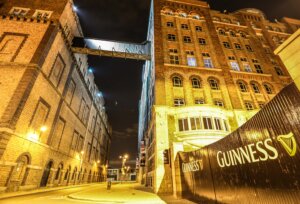 7. The Guinness Storehouse. Not just the perfect place for a pint in the rooftop Gravity Bar, The Guinness Storehouse is also a great place to learn about Irish engineering and innovation tying in with Dublin's unique history. Be sure to book a ticket for this very popular attraction in advance! Only a 20-minute bus ride from The CCD.
Find out more about Dublin here!