Carefully chosen and expertly prepared
We are committed to ensuring your delegates' health and wellbeing is top priority in your menu choices. All of our menu options encompass traceable, high quality food. This means you are guaranteed optimised nutritional intake, whilst experiencing unmatched flavours.
We offer a range of healthy options throughout our menus and your Hospitality Manager will be on-hand to help you make the best food choices for your delegates. Our opt in and opt out services help you make small tweaks that have a big impact on your delegates' health. For example, opting in to using wholegrain bread, pasta and rice, or opting out of having salt available on tables during meals.
We also take particular care to cater to all specialised dietary needs. From vegetarian, coeliac and dairy free to Halal and Kosher dishes, we are proud of our ability to manage individual requests. We also provide a nutritional information desk to advise your delegates on allergens as well as saturated fats and sugar content.
The choice of menu is vital to the success of your event. Whether you want to create a traditional Irish dish or a contemporary meal with flavours from around the world, your Hospitality Manager will help create a menu that will complement your event.
The result? A truly memorable experience for your guests in world-class, iconic surroundings. Learn more about the range of catering options available for your next event.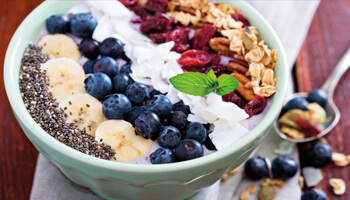 Breakfast
CCD Hospitality offers a choice of many breakfast options including buffet style, continental or Irish breakfast and confectionary or healthy snacks. We also have an exciting range of breakfast bites that can be added to your menu.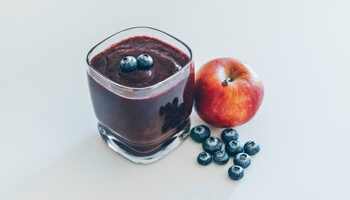 Coffee Break
We offer a variety of options for you to choose from to enhance your coffee breaks including biscuits, breads and cakes, scones, doughnuts, fruits and smoothies. These are a great solution for mid-morning or afternoon boosts.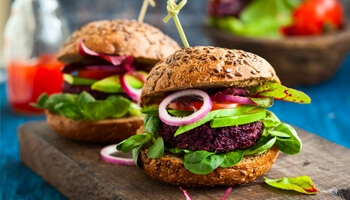 Food on the Move
Our hampers are made up of a selection of cheeses, fruits and sandwiches. Our lunch package consists of a mid-morning coffee break, a buffet style lunch with a choice of hot and cold dishes and desserts, followed by an afternoon break with tea, coffee and sweet bites.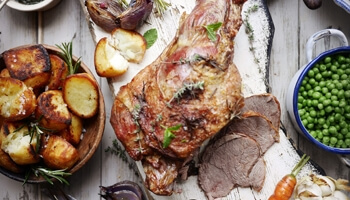 A Celebration of Irish Food
Our traditional Irish menu offers an extensive choice of starters, main courses and desserts prepared by some of Ireland's finest chefs. We commit to using Irish produce, showcasing the finest ingredients used at The CCD.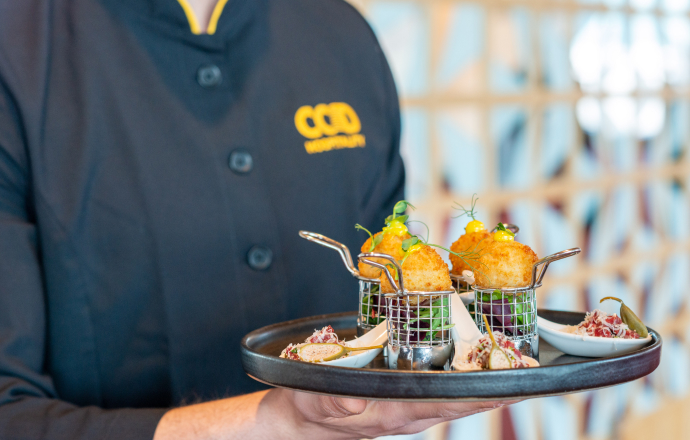 Canapés, Bowls and Boxes
We offer a selection of healthy vegetarian, meat and fish bowls and bento boxes. We also offer a selection of tasty finger food and canapés. Our canapé menu offers you eight items of choice from a selection of dishes – four hot and four cold.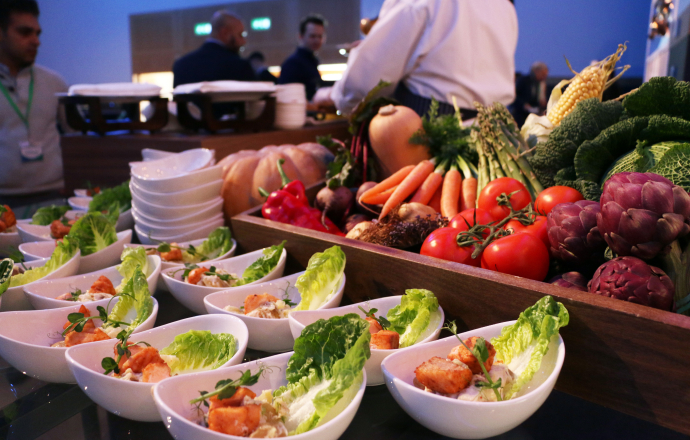 Interactive Reception
Our interactive welcome reception is a great way for your delegates to engage with our talented chefs and network with other delegates. These interactive stations offer a mix of salmon, gyoza, sushi and vegan interactive stations.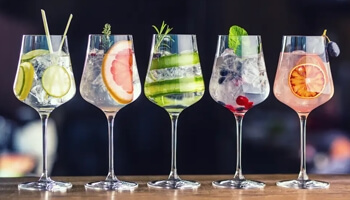 Drinks
Your drinks reception sets the tone for your event and is the perfect way to fill in the gaps between key sessions. With an array of areas to host your drinks reception, we offer a range of packages including a mix of alcoholic and non-alcoholic beverages.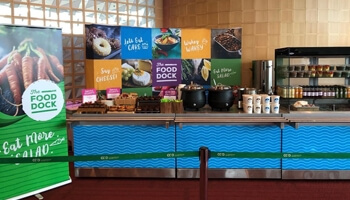 Cash Catering
The Food Dock, offers a selection of seafood, meat, cheese and vegetarian dishes. It also includes pastries, sandwiches, hot rolls, fruit, soft drinks, tea and coffee. Offerings can be tailored according to event requirements and can be customised to meet the needs of delegates.