Project Management Institute (PMI)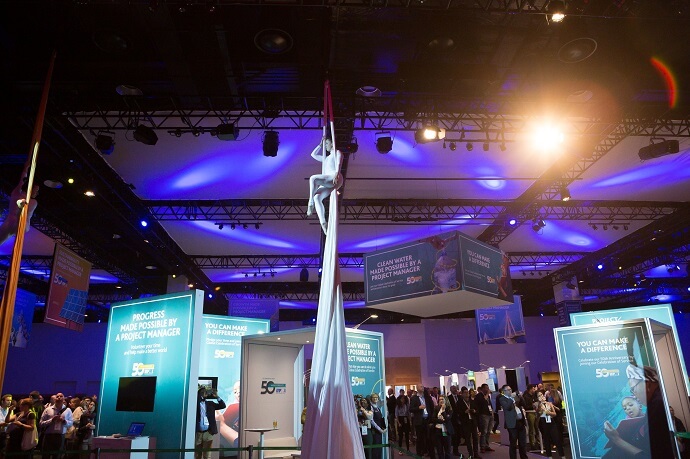 Project Management Institute (PMI) chose The CCD to host their 50th anniversary in May 2019. This large scale event consisted of three back-to-back events rolled into one and included seminars, workshops, meetings and celebrations.
Delegates: 1,350
Client: Project Management Institute (PMI)
Event: PMI 50th Anniversary
Type: International Association
Date: 07 to 17 May 2019
Days: 10
Brief
Project Management Institute (PMI) was on the lookout for a venue that could host three back-to-back events with short turnaround times between each. The client required quick transformation of rooms and branding throughout the building for their three different events. They also wanted to create the wow factor to celebrate their 50th anniversary, as well as a venue with high-end ICT infrastructure to accommodate their first ever live TED session.
Solution
PMI's large-scale international association event took place at The CCD over the course of 10 days, with multiple room and branding changes occurring throughout their tenancy. The PMI event consisted of three different events, with the first taking place from 10 – 12 May when 300 leaders gathered for a weekend of meetings and activities. Friday's reception was themed on an Irish pub with the Merry Ploughboys band playing to the crowd, themed food stations and three Guinness taps for attendees to test their 'pint pulling'. For Saturday's reception, the same space was transformed into an urban picnic to celebrate PMI's 50th anniversary. The CCD worked with a local entertainment company to pull off an Irish dancing flash mob with dancers dressed in CCD uniforms surprising delegates.
With servicing works closing the Samuel Beckett Bridge for three of the ten days of the event, The CCD secured a ferry taxi to bring delegates from accommodation on the south side of the river, across the water to the venue on the north side. For those who preferred walking, a walking map of the easiest route to the venue was designed and published on the event app.
The first event ended on Sunday evening and the venue was quickly transformed for the next morning's event, PMI® EMEA Congress. Running from 13 - 15 May, this high-profile event brought over 850 delegates to The CCD. Monday kicked off with juggling stilt-walkers greeting delegates on the Ground Floor Foyer. This was followed by a day of orientation, networking and general sessions, before delegates were treated to a happy hour in the Forum. Following this, CCD Furniture had a one-hour slot to transform the Forum, while delegates were in session, with fifteen staff removing furniture and replacing it with standing pod tables, changing linens and adding floral centerpieces without disruption.
Tuesday was the main day for PMI to celebrate their 50th anniversary. Workshops and podium sessions took place throughout the day with the anniversary celebration kicking off that evening and CCD Furniture transforming the Forum in just one hour. CCD Hospitality helped to make the evening special with an ice carving of the PMI 50th anniversary logo, customised desserts and signature cocktails both featuring the logo. There was a selection of entertainment including The Key Notes band, dancers and aerial artists.
The PMI® EMEA Congress featured PMI's first ever TED session, which took place in the Auditorium. This consisted of a series of live talks specially curated to inspire project management professionals. CCD Technical organised live streaming to a possible 500,000 of PMI's audience with CCD ICT providing the required strength of streaming connection. During the last day of the congress, PMI announced that they had reached their goal of 50,000 volunteer hours to support the United Nations Sustainable Development Goals and pledged to double it. The news was celebrated with a balloon and confetti drop in the Auditorium to great applause. After the congress ended, the venue was prepared overnight with stripping of branding, cleaning walls and touching them up with fresh paint for the last of the client's three events – PMI Seminars-World. This event was of a smaller scale, offering intensive courses for small groups who wanted to gain a deep understanding of a single topic.
Results
The PMI event was of a large-scale, with three separate events rolled into one, each delivered and managed separately. The venue was ideally suited for delivering such an event, demonstrating flexibility with the quick transformation of rooms and branding throughout the week. CCD ICT provided Wi-Fi for delegates and a private network for additional audiences, as well as providing the client with daily network usage reports. The venue's hospitality offering delivered to PMI's vision of achieving the wow factor for their 50th anniversary with an array of bespoke offerings such as an ice block carving and interactive food stations. The venue also accommodated a range of entertainment for each event including four musicians, five singers, three bands, four aerial artists and two stilt walkers.
It was a meeting planner's dream come true! This magical process began with our first site visit and meeting with our Account Manager. Once we saw the venue, met with the staff and were told that we would have a dedicated meeting concierge and car at our disposal, we knew it was a perfect fit! Planning the programme with our Event Manager, as well as working with her on site, was a true testament to what we were sold at our site visit. The team of professionals assisted in executing one of our best meetings ever! I would be remiss to not mention the outstanding food and beverage team. The pièce de résistance was the culinary skills of the chef! This is hands down one of the best venues I've worked with in my many years as a planner. I can't wait to return! Shelly Tsipori, CMP- Global Event Planner, Project Management Institute (PMI)