3rd Annual European Society for Paediatric Endocrinology (ESPE) Meeting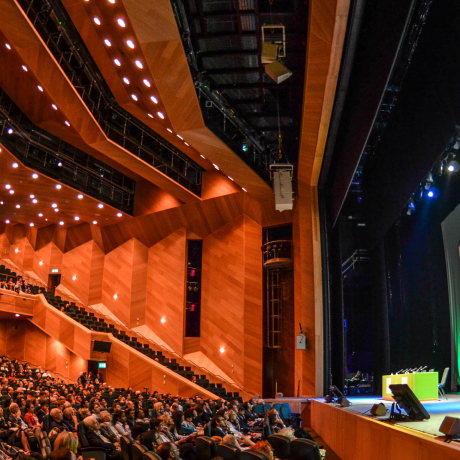 ESPE 2014 attracted 3,500 scientists, clinicians, nurses, sponsors, exhibitors and speakers for a cutting-edge scientific programme.
Delegates: 3,500
Client: Bioscientifica Ltd
Event: 3rd Annual European Society for Paediatric Endocrinology (ESPE) Meeting 2014
Type: Conference
Date: 18-20 September 2014
Days: 3
Brief
The European Society for Paediatric Endocrinology (ESPE) is the leading international scientific community of paediatric endocrinologists with interests in a wide range of hormone related issues in young people. The ESPE annual scientific meeting is held in a different European city each year and is recognised worldwide as a meeting of high scientific and educational quality.
Solution
The CCD was selected as the venue because of its beautiful architecture, appropriate size, city centre location and superb staff. The successful bid to bring ESPE 2014 to Dublin was put forward by Professor Hilary Hoey, President of ESPE 2014 and was supported by Fáilte Ireland and The CCD. It was the first time for both Ireland to be chosen to host the ESPE annual scientific meeting and for an Irish person to be elected president.
 The theme of the three-day meeting was prevention and therapeutic innovations in paediatric endocrinology, and internationally renowned experts from around the world gathered to present their perspectives. Delegates explored the latest developments in research on many topics including obesity, diabetes, bone disorders, cancer syndromes, growth and regenerative endocrinology. This took place within a programme of plenary lectures, symposia, meet-the-experts and e-poster sessions throughout The CCD.
CCD Hospitality produced just under 10,000 'grab and go' bags during the three days, which was its largest number ever for one event. The team worked with organisers to find the best solution to tie in with the delegates' busy schedule and to ensure the bags contained a wide variety of sandwiches, fruit, yoghurt and snacks.
ESPE 2014 was a special event for The CCD as it marked the occasion of its 1,000th event since opening in September 2010. Nick Waight, CEO of The CCD commented "We have had an incredible four years and we are delighted to celebrate our 1,000th event with ESPE."
"The venue has been truly amazing to work with", said Kate Sargent of Bioscientifica Ltd, the official PCO for ESPE 2014. "We are most impressed with the dedication of all of the staff at The CCD and the very warm welcome we have had, not only onsite, but during the planning process over the past year. We are delighted to share this special occasion with The CCD and hope to return at some point during the next 1,000 events!"
Results
Over the three days, 3,500 scientists, clinicians, nurses, sponsors, exhibitors and speakers came together for ESPE 2014 to experience a cutting-edge scientific programme. Professor Hilary Hoey, President of ESPE 2014, was delighted with the success of the meeting and commented "We are very grateful to all the staff at The CCD for their expertise, efficiency and courtesy. This was very much appreciated by the ESPE Council, Bioscientifica and all the delegates who enjoyed an excellent scientific programme and a very memorable meeting."
We are very grateful to all the staff at The CCD for their expertise, efficiency and courtesy. This was very much appreciated by the ESPE Council, Bioscientifica and all the delegates who enjoyed an excellent scientific programme and a very memorable meeting. Professor Hilary Hoey, President of ESPE 2014