Fáilte Ireland Industry Briefing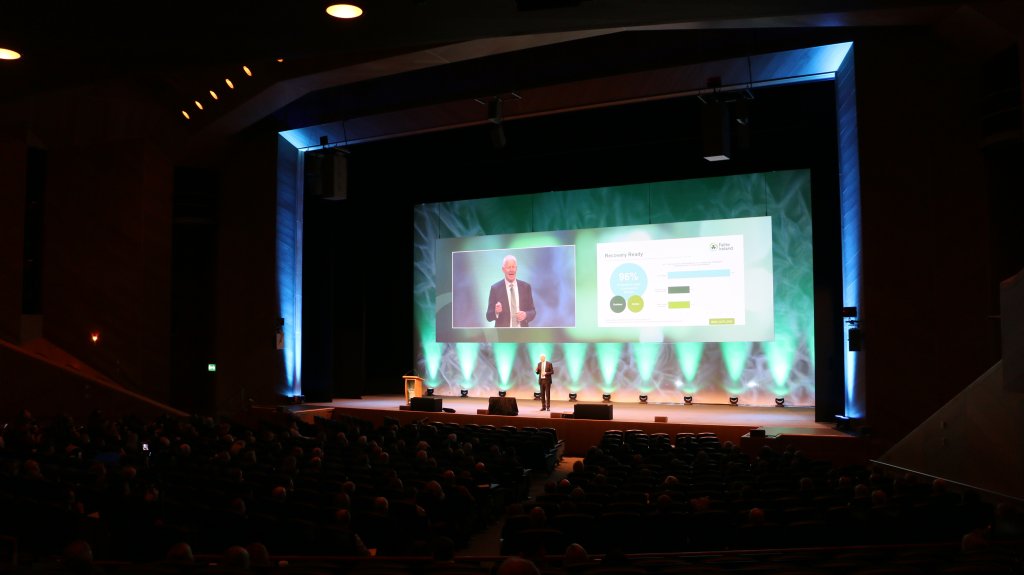 The CCD hosted Fáilte Ireland's Industry Briefing in September 2021. The event was Ireland's first in-person business conference since March 2020, marking the reopening of the meetings and conferences sector.
Delegates: 450
Client: Fáilte Ireland
Event: Fáilte Ireland Industry Briefing
Type: Public Sector
Date: 21 September 2021
Days: 1 day
Brief
Fáilte Ireland sought a business events venue to provide meeting space, audio visual equipment and food and beverage for hosting an in-person industry briefing event in Dublin city centre. Selection was by means of a tender process, whereby each venue had to demonstrate their experience of delivering similar events, as well as highlighting sustainability policies in place to manage and minimise the environmental impact of the event. It was also a requirement that the venue had completed the Government of Ireland/Fáilte Ireland Covid Safety Charter.
The CCD was chosen to host an inspiring event to kick off the re-opening of the tourism industry in Ireland. Event requirements included being COVID-compliant, inspiring professionals working in the tourism industry and making them feel confident and safe returning to large-scale events.
During the pandemic, The CCD hosted sittings of the Houses of the Oireachtas (the Irish Parliament), with Fáilte Ireland's Industry Briefing marking a return of in-person business conferences at the venue since the easing of restrictions.
The CCD wanted to provide delegates with a five star experience, while also being compliant with necessary health and safety COVID regulations. The operations team considered the experience they wanted to create for the client and then sought to ensure the event was delivered in a safe manner.
The event strictly followed Fáilte Ireland Guidelines for Re-Opening for Conference Centres and Venues. Some of the control measures in place included the following.
Proof of immunisation and ID was checked upon arrival.
Guests wore masks at all times apart from when they were dining.
The event was socially distanced, both in plenary and public areas.
The number of people sitting at tables for lunch was reduced to adhere to guidelines.
The client kept guest contact details for a period of time to facilitate contact tracing.
As with all hospitality at The CCD, the event menu was sourced from the island of Ireland. All packaging was fully compostable where possible and a QR coded menu was used, with a selection of hand baked pastries and treats served from our in-house bakery.
Minister for Tourism, Arts, Culture, Sport, Gaeltacht and Media, Catherine Martin TD officially opened the event in the Auditorium. Other speakers included Fáilte Ireland CEO Paul Kelly and a panel discussion of event industry leaders, including The CCD's Chief Executive, Stephen Meehan.
Results
The CCD hosted Fáilte Ireland's Industry Briefing in September 2021. The event was Ireland's first in-person business conference since March 2020, marking the reopening of the meetings and conferences sector. Fáilte Ireland