18th Annual Global Airfinance Conference Dublin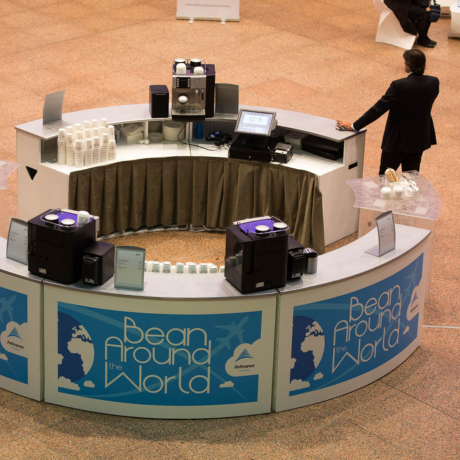 The Airfinance Conference is the premium event for the aviation finance industry and it has made The CCD its home, holding its 2015 and 2016 conferences at the iconic venue with plans to return in 2017.
Delegates: 1,000
Client: Euromoney Seminars / Airfinance Events
Event: 18th Annual Global Airfinance Conference Dublin
Type: Conference
Date: 18-20 January 2016
Days: 3
Brief
The Airfinance Conference is the premium event for the aviation finance industry and its three-day conference is the largest gathering of partners in the world. It attracts senior airline executives, engineers, manufacturers, financiers and lawyers interested in outlooks in airline leasing and banking, capital markets, and aircraft and engines.
The conference has been growing each year and in 2015, Airfinance Events decided that a larger venue was required and that the "space, flexibility, comfort and convenience" of The CCD was the perfect fit. Airfinance held its first conference at The CCD in January 2015 and was extremely impressed by the state-of-the-art infrastructure, exceptional service and attention to detail delivered by the venue. So much so that they decided to return in 2016 and to also book the conference for 2017.
Organisers wanted to create some new experiences for the 2016 conference based on feedback from delegates. Networking was to play a big part with more business lounges, private meeting rooms, tailored lunch breaks and themed evening receptions.
Solution
The CCD is a 'blank canvas' venue where clients have the flexibility to create any style for their event, ensuring they can return year-on-year and feel like they are in a different venue each time. Airfinance had a full-site let of The CCD and in addition to the halls and meeting rooms, the bright and spacious foyers, located on each level, offered a unique range of extra spaces with multi-functional capacity for registration, receptions and hospitality.
On entering The CCD for registration on the ground floor foyer, attendees were greeted to a custom-made 'Bean Around the World' Coffee Bar with bespoke Flux furniture which set the scene for informal discussions with colleagues.
Level 3 foyer was transformed into a business lounge which was an integral part of the conference. The adaptable space facilitated various types of seating including comfortable armchairs and rugs to create a lounge atmosphere, booths with high backed seating for added privacy, and mobile phone charging stations where attendees could have informal discussions while recharging devices.
The CCD's largest flat-floored hall, The Forum, and the meeting rooms on level 1 and 2 were split to create structural meeting spaces for delegates and to facilitate high profile speakers which included chief executives from Lufthansa, American Airlines, Emirates, Delta, United Airlines, Scandinavian Airlines, Turkish Airlines and Wizz Air.
The Wicklow Halls on level 2 were transformed for lunch and refreshment breaks into bright restaurants with different themes in each. 'The Bistro' offered delegates a seated buffet option where coloured draping, table runners and fresh, green floral table centrepieces brightened the room. The 'Lean and Green' room featured a more casual New York style restaurant with bespoke colourful neon frames of various shapes and sizes on one wall, and colourful stools, napkins and large green plants to bring an earthy atmosphere.
The social agenda for the conference took place on level 4 foyer which provided the perfect setting for the themed cocktail receptions with magnificent views of Dublin city, bay and mountains.
On the first night, the 'Stargazing Soiree' transported guests to a winter's evening where starlight drapes and neon lighting throughout the foyer created an impressive aurora borealis and the sense of being among the stars. Frosted trees and large hurricane lanterns with flickering candles also lit the foyer while elements of scattered snow added to the scene. Guests were greeted by chalet girls, who were appropriately dressed in fur, and entertained by a live DJ and saxophone player as a giant polar bear ice sculpture overlooked the evening.
The second night brought an evening of illusion and merriment for the carnival themed 'Extravaganza of Wonderment Cocktail Party'. Ringmasters and carnival games offered excitement and fun as the familiar scent of popcorn and candy floss filled the air. The multi-functional foyer was designed to resemble a big top circus tent with yellow, red and white lighting, bunting and draping. Guests were entertained with live music, stilt walkers and a sword swallowing illusionist.
Results
The team at The CCD worked with award winning Event Management agency, Davis Events, to transform its flexible spaces and create an effective conference with unique networking opportunities, exciting dining rooms and spectacular themed evening receptions. They also focused on a strong brand presence at every touch point throughout the venue with The CCD's digital signage system ensuring appropriate signage was in place for delegates to navigate their way around the building.
The 18th Annual Global Airfinance Conference was an outstanding success, attracting 346 airline representatives from more than 120 airlines and 54 countries to Dublin over three days. Delegates hailed the conference as "the best aircraft financing event in the world, year-in and year-out".
We were delighted to return to The CCD in 2016. Space, flexibility, comfort and convenience are important when choosing the right venue for a large scale event such as the Annual Global Airfinance Conference and The CCD has it all. Candice Chevillard, Head of Airfinance Events